IB ACIO Gr 2 Previous Years Model Question Paper Download Intelligence Bureau Assistant Central Intelligence Officer Grade-II Executive Exam Fully Solved Tier 1 2
Intelligence Bureau IB ACIO Previous Yeas Question paper download link for executive gr 2 post has been given here. Model question paper for IB Assistant Central Intelligence Officer Grade-II/Executive Exam may be found below. The question paper of tier 1 consists of multiple choice questions (MCQ) questions (objective type) from the syllabus of the written test. In tier 2, candidates have to answer descruptive questions where they have to write precis and English comprehension. Ministry of Home Affairs or MHA will conduct the written test / online test for the recruitment of Intelligence Bureau ACIO Grade 2 officers. Previous years question paper fully solved for last 5 years or 10 years old papers will be very important for the upcoming recruitment exam where 1300 posts will be recruited through competitive exam. Earlier recruitment notice for the recruitment of ACIO was published on the official website of MHA which is www.mha.nic.in.
Download IB ACIO Gr 2 Fully Solved Set Question Paper – Click here.  

Intelligence Bureau ACIO Model Question Paper Download PDF Tier 1:
Intelligence Bureau Assistant Central Intelligence Officer Grade 2 posts fully solved model MCQ questions answers is given below –
IB ACIO Previous year question Paper download PDF Tier 1:
Intelligence Bureau ACIO Tier 1 Previous years question paper may be found on the official website link of which has been given here. You will be able to download the previous years old question paper for earlier years once the official website or authority uploads the same.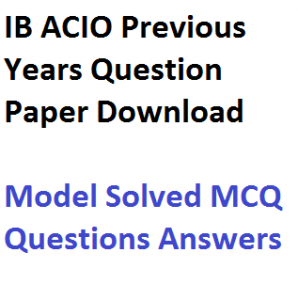 Download Solved Sample Question Paper for IB:
1) Who laid the foundation of Portuguese power in India?
a) Vasco da Gama
b) Bartholomew Dias
c) Alfonso de Albuquerque
d) None of the above
2) The Modi script was employed in the documents of the
a) Wodeyars
b) Zamorins
c) Hoysalas
d) Marathas
3) Kumarasambhava, an epic poem, was composed by
a) Banabhatta
b) Chand Bardai
c) Harisen
d) Kalidasa
4) The later Mughal Emperor Shah Alam II was actually known as
a) Shahjahan
b) Kambakhsh
c) Ali Gauhar
d) Alamgir
5) Which one of the following cultures is influenced by Harppan culture?
a) Malwa Culture
b) Jorwe Calture
c) Kayatha Culture
d) Megalithic Culture
6) Which religion has the largest population in the world ?
a) Christianity
b) Islam
c) Hinduism
d) Buddhism
7) Which among the following countries has the largest population ?
a) Indonesia
b) Japan
c) Pakistan
d) Sudan
8) In which one of the following countries, is Tamil a major language?
a) Myanmar
b) Indonesia
c) Mauritius
d) Singapore
9) Which National Highway connect Delhi and Mumbai?
a) NH6
b) NH8
c) NH10
d) NH12
10) Which among the following is the major item of export from Paradeep Port?
a) Rice
b) Tea
c) Fish
d) Iron ore
ANSWER keys / solution Download:
1) c 2) d 3) d 4) c 5) c 6) a 7) a 8) d 9) b 10) d.
Thank You