Odisha Public Service Commission Civil Service Exam Syllabus  2018 Preliminary & Main Exam Pattern Download PDF OPCS OCS
OPSC Civil Service Exam Syllabus 2018 Exam Pattern Download PDF OCS Selection Process Odisha PSC Prelims Mains Exam Details: Odisha PSC will conduct the Civil Service Examination in 2018 for which we have discussed Preliminary & Mains Exam Syllabus, Recruitment Test Pattern, Selection Process and other information regarding the OCS Written Exam.
Odisha Public Service Commission has asked for the online application from the eligible graduate candidates having passed Odia as a subject till the middle school for the Category-I posts of Odisha Administrative Service Group-A Junior Branch (36 nos.), Odisha Police Service Group-A Junior Branch (09 nos.), Odisha Public Service Group-A Junior Branch (24 nos.) and for the Category-II / Group-B posts of Co-operative Service (03 nos.), Revenue Service (20 nos.), Taxation and Accounts Service (14 nos.). The Odisha Civil Service Preliminary Written Examination will commence on 24.12.2018 and the candidates successfully going through this test will be called for the Main Examination.
Odisha Civil Service Exam Pattern:
There will be three phases of selection test conducted by the Odisha Public Service Commission for the Category-I and Category-II posts- Preliminary Examination, Main Examination and Interview. At first the Preliminary Examination will be conducted and it will be Objective in nature, having Multiple Choice Questions. There will be total 2 papers of the Preliminary Examination. Below are the exam scheme & pattern and marks distribution of the various phases –
Preliminary Exam (400 Marks):
General Studies Paper 1 (200 Marks)
General Studies Paper 2 (200 Marks)
Mains Exam (2600 Marks):
Paper 1 Odia Language
Paper 2 English
Paper 3 English Essay
Paper 4 General Studies I
Paper 5 General Studies II
Optional Papers (paper 6, 7, 8 , 9) – 1200 Marks (300 Marks Each Paper)
Interview (250 Marks).
Click to download OPSC Civil Service Previous Years Question Paper Solved. 

OPSC Civil Service Prelims Exam Syllabus 2018:
The detailed syllabus of OPSC Civil Service Prelims Exam is furnished below –
Preliminary Examination: Paper-I – General Studies Syllabus:
National and International Current events

History of India and Indian National Movement

Physical, Social and Economic Geography of India and the World

Indian Politics and Governance- Constitution, Political System, Panchayati Raj, Public Policy, Rights Issues etc.

Economic and Social Development- Sustainable Development, Poverty,

General Issues on Environmental Ecology, Bio-Diversity and Climate Change

General Science
Paper-2 -General Studies Syllabus:
Comprehension

Interpersonal Skills including communication skills

Logical Reasoning and Analytic Ability

Decision Making and Problem Solving

General Mental Ability

Basic Numeracy (Class-X level), Data Interpretation (Class-X level)

English Language Comprehension Skills ( Class-X level)
Main Examination: Compulsory Papers- 1400 marks :
Paper-I

 

Odia Language
Paper-II

 

English
Paper-III English Essay
Paper-IV General Studies-I
Paper-V

 

General Studies-II
Optional Papers : (Papers-VI, VII, VIII and IX)- 1200 marks :
The syllabus for optional subject papers for the Main Examination will be of a level higher than Bachelor's degree and lower than the Master's degree. In case of Engineering and Law, the level is Bachelor' Degree.
Mains Exam Scheme & Optional Subjects:
2 subjects are to be selected from the list of the Optional subjects given below and each subject will have 2 papers of 300 marks each. The subjects are- Agriculture, Animal Husbandry and Veteniary Science, Anthropology, Agricultural Engineering, Botany, Chemistry, Civil Engineering, Commerce and Accountancy, Economics, Electrical Engineering, Education, Fisheries Science, Forestry, Geography, Geology, Home Science, History, Indian Language-Odia, Hindi, Sanskrit, English, Persian and Urdu, Law, Management, Mathematics, Mechanical Engineering, Philosophy, Physics, Pol.Sc and International Relations,Public Administration, Psychology, Sociology, Statistics, Zoology.
Here are some important questions below this year-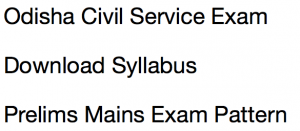 You can download the detailed syllabus of the Mains and Prelims Exam from the Civil Service Exam 2018 Notification in PDF format – Click here.
The detailed syllabus of these optional subjects can be obtained from the official website of Odisha Public Service Commission : www.opsconline.gov.in.