Update: West Bengal DELED Admission Merit List 2018 will release shortly. Candidates will be able to know whether they have got chance in their desired D.El.Ed Colleges.
WB D.El.Ed Admission Form fill up last date has been extended upto 8th July 2018. Application Form 2018-2020 earlier released on 13th June 2018. Read the detailed information regarding the West Bengal D.El.Ed Notification 2018 below. West Bengal DElEd Merit List hopefull will be available after 10th July as per new notice which extended the last date of submission of online application form.
D.el.ed classes have started from July 24th, so all the candidates are very much wishes from us.
Check Now WBSSC Group C D Recruitment Notification 2018 under University of Calcutta.
Important Dates of West Bengal WBBPE DElEd Admission 2018
WB D.El.Ed Course Admission 2018-2020 Schedule – গুরুত্বপূর্ণ তারিখ এবং সময়সূচী

Course Name

D.El.Ed (2 Years)

Session

2018-2020

Application Form fill up starting date

13 June 2018 (5 PM)

Last Date for submission of online application

26 June 2018 Extended to 8th July

Online Approval of Merit List (approved list) releasing date

10-07-18 to 13-07-18

Classes will start from

16th July 2018
Important Links-
WB DElEd Admission 2018-20 will start soon. Online application form fill up for West Bengal D.El.Ed 2 years course will start on www.wbbpe.org. Also check D.El.Ed admission eligibility criteria, latest announcement & news regarding the releasing of two years DElEd admission notice for 2018-2020 session in various govt / govt aided college on our website. We will provide up to date information regarding the procedure of online application and detailed how to article for getting admission into Diploma in Elementary Education (D.El.Ed) as per the rule laid by WBBPE. Also we will try to provide information in Bengali Language. List of NCTE Approved D.El.Ed Colleges in West Bengal as per www.ercncte.org is also given here.
Check here WB Primary TET 2018 Exam Date News.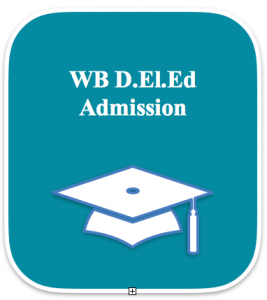 WB DElED Admission 2018-2020 – পশ্চিমবঙ্গ ডি এল এড কোর্সে ভর্তির গুরুত্বপূর্ণ তথ্য
Students have to apply online for enrolling themselves for Face to Face / Regular mode course. The WB DElEd Admission 2018 will be done as per NCTE guidelines. List of valid colleges in West Bengal under which candidates can seek admission, will also be notified.
Eligibility Criteria
50% in Higher Secondary (10+2) or its equivalent examination.
In case of SC/ ST/ OBC-A/ OBC-B/ PH/ EX-Serviceman candidates, the minimum marks requirement is 45%.
NCTE DElEd Guidelines –
You can check the detailed eligibility criteria on Annexure-2 of NCTE Regulations-2014.
Here is a cut off the NCTE Appendix 2 which states about the eligibility for D.El.Ed course –

Download the Entire Guideline as stipulated by NCTE here in PDF format – Click here to start download.
List of Colleges in West Bengal for D.El.Ed Admission 2018-2020
List of Colleges released vide NCTE dated 17-06-2017 was published during the application form fill up process. This year also the board may release list of Institutions Recognised By The NCTE & Affiliated To West Bengal Board Of Primary Education.
Also you can visit the official website of NCTE (Eastern Region) which is www.ercncte.org for updates list of Recognized Institutions and their orders.
List of WB D.El.Ed Recognized Institutions (up to 252nd ERC Meeting held on 28th February to March 3 2018) – Click here.
[su_document url="http://jobsandhan.com/wp-content/uploads/2018/05/National-Council-for-Teacher-Education.pdf"]
Here is another list of colleges from WB Primary Education Website – Click here.
Updated list for this year may release shortly on official portal of WBBPE. Take a look at the WB Primary Teacher Result release on official website.
How to get WB DElEd Admission for 2018 2020 session
Before you apply against the online application which be released soon, you should understand the process for Admission in D.El.Ed Course in West Bengal. First you need to decide which college you are going to take admission.
Q. How to decide which DElEd college is best in West Bengal?
Before you make your mind that you will seek admission in that college, gather as much information you can get about the college. There are various Govt / Govt Aided / Self-financed colleges and PTTI institutes are there. Speak with the college alumni and authority, ask them your concerns / Exam fees etc. Also you must check out the list of colleges which have been recognised by NCTE (National Council for Teacher Education) and affiliated to WBBPE. Visit the official website of NCTE to know more about the D.El.Ed course.
We already have given link of the PDF file uploaded on the official website regarding the NCTE approved institutions list above. Moreover, you can search district wise approved institute list here also – Search Institutions.
Q. I have decided my College, now how to fill up Application Form Online
Once WBBPE notifies the form fill up starting date on their official website regarding the admission in 2018-2020 session, you should visit the official website and apply online. There are a few official portals where notification regarding the D.El.Ed course is released officially. They are –
www.wbbpe.org

.

wbbprimaryeducation.org

.
Also if you want to get latest updates and news on West Bengal D.El.Ed College admission for this academic year 2018 2020, then follow our website. We will update the form fill up link online and will provide the important dates (Starting date of form fill up & last date) of admission.
Merit List & Counselling
After you have submitted the online application form, the WBBPE will issue shortlist or merit list. Candidates will be able to check their result and college allotment list. 2nd , 3rd list may also be notified after counselling. At that time you can ask your college directly regarding the merit list / counselling or further steps.
How to fill up the online application form on

wbbprimaryeducation.org
There is a detailed guideline on how to submit your application form online. You can check the detailed guide published on the official website.
1. Enter all the required field as per your certificate.
2. Pay your application fee after verifying and submitting form.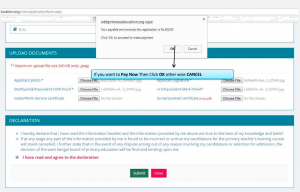 3. You can now take a print out of the WB DELED Admission application form 2018.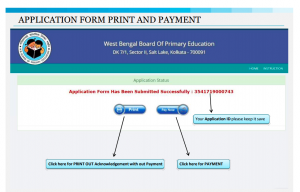 4. Download your application form for future use. It will look like below –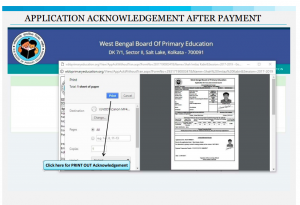 D.El.Ed Course Application Fee for online submission
| | |
| --- | --- |
| Category | Application Form Fee |
| General | 300 |
| SC ST PH | 150 |
Helpline Number
Telephone – 033 29860246, 033 23379313, 033 23598099.
কিভাবে আবেদন করতে হবে ? কি কি ডকুমেন্টস লাগবে ? আবেদনপত্র জমা দেওয়ার জন্য ন্যূনতম কত শতাংশ লাগবে এবং আরও তথ্য জানতে আমাদের আর্টিকেলটি ভালোভাবে পড়বে | এর মাধ্যমে আপনারা আপনাদের মনে যাবতীয় প্রশ্ন উত্তর খুঁজে পাবেন |
Keep visiting www.jobsandhan.com for more updates. Also read announcements on WBBPE website regarding Primary School Elementary Education courses.