Written Exam Pattern Marks Distribution for WBCS Mains & Interview – Download syllabus
After the prelims exam in West Bengal Civil Service (WBCS), qualified candidates are required to appear in Main exam or mains test. There are 7 papers including 6 compulsory and 1 optional papers. Syllabus for each of the paper of the WBCS MAINS exam is available to download in the post. The written exam will be subjective as well as objective. The exam pattern and structure is also analyzed in the below post. The mains test will be followed by personality test or interview.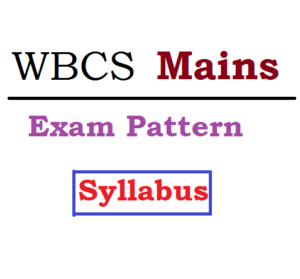 Total marks for the main exam:
Now we will discuss about how many marks exam are conducted for the WBCS Main Exam. The total marks for the exam depends on the grade you have applied for. Group wise marks distribution for main and interview is given below –
Group A – 1600 marks + 200 marks for interview – Total 1800.
Group B – 1600 marks + 200 marks for interview – Total 1800.
Group C – 1200 marks + 150 marks for interview – Total 1350.
Group D – 1200 marks + 150 marks for interview – Total 1350.
WBCS Mains Exam Syllabus and structure –
There are 6 compulsory papers and 1 optional paper. The compulsory papers are discussed below –
Language Paper (Bengali / Hindi / Nepali / Urdu etc.)                                200 marks,
English Paper                                                                                              200 marks,
General Studies I (Indian History and Geography)                                     200 marks,
General Studies II (Science, Environment and GK & Current affairs          200 marks,
Constitution of India and Indian Economy                                                   200 marks,
Arithmetic and test of reasoning                                                                  200 marks.
This 6 papers are common to the candidates who are applying for the Group A, B, C and D.
Optional Subject:
In addition Group A and B cadres will have to appear in Optional Papers. There will be two papers each having 200 marks consisting of 400 marks optional paper.
So, the Group A and Group B cadres will have to answer 1600 marks mains paper.
Candidates have to choose one optional paper during the time of application for the prelims. They can choose any of the subjects mentioned in WBCS prospectus. There are some restrictions on selecting the optional subjects also. Please check it out on the official website at www.pscwb.org.in.
Main Exam Pattern:
Among the 6 compulsory papers, the last four papers mentioned above that is paper no 3, 4, 5 and 6 will be of objective type and the paper 1, 2 and optional paper (both the 2 parts) will be of subjective or descriptive type. In the 4 objective papers candidates have to answer in OMR sheet. Other 3 subjective papers are need to be answered in descriptive manner for which space will be provided.
There are negative marking for the wrongly marked answers also.
Duration of the WBCS mains exam –
The WBCS main exam will be carried out during a period of 4 days. 3 days for 6 common papers and 1 day for optional paper. The venue of the mains test will be in Kolkata Centre only. In a single day 2 papers will be held in Morning and evening session.
Each paper will be of 3 hours duration.
Optional Subject Syllabus:
WBPSC has mentioned the detailed syllabus of optional subject. As there will be two papers from the optional paper, they have mentioned part wise subject for each paper separately.
See the syllabus from here.
Important Study Material:
For more details on each step of the recruitment method please visit Official Website.
Best of Luck For Exam.