Update 10-12-2018: WBPSC Miscellaneous Services Preliminary Exam Result 2018 released now. Mains Exam Date for the West Bengal PSC Miscellaneous Recruitment Exam 2018 also declared as 13 January 2019 for advertisement no 29/2017. 12480 candidates have been qualified in the prelims exam. 
Link of WBPSC Miscellaneous Recruitment Merit List 2018 (List of Roll Numbers)- Click here.
West Bengal PSC conducted miscellaneous service exam 2018 on 4th March. WB Miscellaneous Result 2018 will release soon followed by mains exam schedule. West Bengal Public Service Commission may also disclose the Miscellaneous Service Exam Cut Off Marks 2018 Category wise after they announce the WB Miscellaneous Exam Result 2018. So guys hold your breath until the WBPSC publishes any expected date of releasing of West Bengal Miscellaneous Service Exam Result 2018. We know that you are waiting for when the result will be published. Therefore we will try to answer your question with detailed analysis.
Also check now WB Police Constable Admit Card & Exam Date.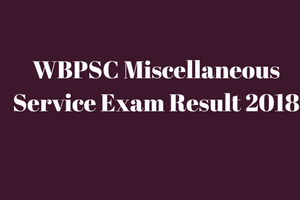 Update: WBPSC Miscellaneous Service Exam Result সম্পর্কে কোন তথ্য পেলে আমরা আপনাদেরকে জানিয়ে দেব পোষ্টের মাধ্যমে |  তাই আপনারা পোস্টটি ভাল করে পড়ুন |
WBPSC Miscellaneous Services Exam Result 2018 Recruitment Prelims Merit List West Bengal Public Service Commission

www.pscwbonline.gov.i

n
WBPSC Miscellaneous Exam 2018 Prelims result will be announced soon. Earlier Recruitment Notification for various vacancy has been published through advertisement no 29/2017 by West Bengal Public Service Commission on their official website which is www.pscwbonline.gov.in. Application form can be filled up online through official website of WB PSC from 3rd January 2018. Candidates who have done Graduation (any subject) could apply for the Miscellaneous Services Recruitment Examination 2018. Last date of submission of online application form was 24th January 2018.
Check all details of West Bengal GNM Nursing Application Form 2018.
পশ্চিমবঙ্গ পাবলিক সার্ভিস কমিশন কয়েক বছর পর মিসলেনিয়াস পোষ্টের জন্য পরীক্ষা নিচ্ছেন | department এই বছর 500 টি পোষ্টের জন্য এই পরীক্ষা নিচ্ছেন | অনেক প্রার্থীরা এ পরীক্ষার জন্য আবেদন পত্র জমা দিয়েছেন | পরীক্ষার কত মাস পর ডিপার্টমেন্ট ফলাফল প্রকাশ করবেন তা আমরা আপনাদের এই আর্টিকেলের মাধ্যমে জানিয়ে দেবো | রেজাল্ট প্রকাশিত হওয়ার দিন সরকারি ওয়েবসাইট ব্যস্ত থাকবে তাই আপনাদের সমস্যা হতে পারে এর জন্য আমরা আপনাদের সুবিধার জন্য সরাসরি লিংক এর ব্যবস্থা করেছি  যাতে আপনারা সহজে ফলাফল দেখতে পারেন | এবার প্রশ্ন হল আপনারা রেজাল্ট দেখবেন কিভাবে ? নিচে আমরা step wise তা জানিয়ে দিয়েছে | যদিও আপনাদের কোন সমস্যা থাকার কথা নয়,তবুও কোন সমস্যা হলে আমাদের জানান মন্তব্য বক্সের মাধ্যমে |
How to Check WB Miscellaneous Result 2018
There is a general procedure by which candidates can check their scorecard or status whether they are qualified or not. The process can be found below.
We will provide a link which needs to be clicked on if you have landed on our website.
This link will take you to the official portal.
Enter your application number or login with your registration id and password.
Enter captcha code.
Hit the button called "Submit".
There you will see your score card.
WB Miscellaneous Service Result 2018
We will update the Link of Checking West Bengal PSC Miscellaneous Service Exam Result 2018 here in this post. So stay tuned until the link is officially activated.
Candidates must submit online application for the West Bengal Miscellaneous Exam 2018 for various officer posts in WB Govt, within the mentioned dates. We have given here detailed eligibility criteria, number of vacancy, age limit, minimum educational qualification requirement, monthly salary, how to apply, application form link, advertisement notification link in PDF format below for this WB Miscellaneous Service Exam 2018. Read the detailed carefully before applying online for this latest WB Govt Jobs 2018. Both Male & Female Candidates can apply for the posts, but some posts are unsuitable for either male or female posts (continue reading below to check the name of the post for which only male and only female candidates are eligible).
Exam Name:
West Bengal Miscellaneous Services Exam 2018 (conducted by WBPSC).
Click here for WBCS 2018 Question Paper & Answer key. 
WB Miscellaneous Exam মডেল প্রশ্ন উত্তর ডাউনলোড করুন বাংলা ভাষায় Click here
Name of the Posts:
1) Assistant Child Development Project Officer
2) Disaster Management Officer/Block Disaster Management Officer
3) Block Youth Officer/Municipal Youth Officer/Borough Youth Officer
4) Sub-Inspector of Excise (Only MALE candidates are eligible)
5) Block Welfare Officer/Welfare Officer
6) Inspector, Backward Classes Welfare,
7) Assistant Agricultural Marketing Officer,
8) Assistant Programme Officer,
9) Controller of Correctional Services,
10) Inspector of Agricultural Income Tax,
11) Consumer Welfare Officer,
12) Saving Development Officer,
13) Posts in West Bengal Subordinate Labour Service,
14) Auditor of Co-operative Societies,
15) Assistant Auditor, Board of Revenue,
16) Extension Officer, Mass Education Extension,
17) Lady Extension Officer, Mass Education Extension (only FEMALE candidates are eligible)
18) Assistant Controller of Correctional Services,
19) Investigating Inspector
20) Revenue Inspector
& Others.
The name of the posts given above has been obtained from the 29/2017 notification by WB PSC.
Important Links for WBPSC Miscellaneous Exam 2018 –
Number of Vacancy:
WBPSC (West Bengal Public Service Commission) has not yet announced the vacancy / number of posts department wise or in aggregate but it is being expected that the number of total vacancy through this WBPSC Misc Exam 2018 will be more than 100.
WB Miscellaneous Exam Eligibility Criteria:
Read the below eligibility criteria for the mentioned posts to be recruited through West Bengal Misc. Exam 2018 –
Education Qualification Requirement:
Candidates must have passed Graduation in any subject (Degree) as on the closing dates.
Final year / appearing candidates may calculate their eligibility if they have qualified their degree within the closing date.
WB Miscellaneous Exam Previous Paper Model Question Solved PDF 

Excerpt of official notification regarding eligibility criteria –

Read here WBPSC Miscellaneous Exam 2018 Syllabus Pattern & Selection Process 

Age Limit:
Lower Age Limit – 20 years (born not later than 1st January, 1998)
Upper Limit – 39 years
Age will be calculated as on 01.01.2018 (born not earlier than 2nd January, 1979)
Age relaxation – Relaxation will be given to the reserved candidates as per the following pattern –
OBC Candidates – 3 years.
SC ST Candidates – 5 years.
Physically Handicapped (PH) Candidates (Persons With Disabilities) – Upper Age limit = 45 years.
SC ST BC Candidates of other states will be treated as general candidates hence WBPSC will not provide any age relaxation for the other states SC ST OBC candidates.
Language:
Ability to read, write and speak in Bengali. This criteria is not required for the candidates whose mother tongue is Nepali.
Physical Standard:
Candidates must have minimum physical standard requirement for Sub-Inspector (SI) of Excise post. Below are the physical standard requirement –
Minimum height 160 cm (Relaxable by 7.6 cm. for Gorkhas, Garwalis, Assamese and Tribal).

Minimum chest girth 76 cm after full expiration (Minimum 5 cm chest expansion).
Monthly Salary / Pay Scale:
Post No. 1 to 12 will be paid monthly salary of Rs 7100 37600 with Grade Pay Rs 3900 (PB–3)
Post No. 13 to 19 will be paid in pay scale of Rs 7100 37600 with Grade Pay Rs 3600 (PB–3).
Other allowances like HRA, DA etc will also be paid to the candidates as per the norms of the Govt.
Important Dates of WBPSC Recruitment:
Online application submission – 3rd January, 2018 from 11:00 a.m

Last date for submission of online application – 24th January, 2018 (12-00 midnight)

Closing date of online application fee payment – 24th January, 2018 (12-00 midnight)

Last Date of offline fee payment – 25th January, 2018.

Challan generation last date – 24th January, 2018

Prelims Exam Date: 3rd March 2018 (Tentative).
Check WBPSC Miscellaneous Exam Prelims Test & Admit Card Publishing Date 

Exam Fee / Application Form Fill up Fee:
General / OBC and SC ST Candidates of other states – Rs 160 + other charges.

SC ST PwD – Nil.
Help Line:
(033) 2262-4181 – Offline Payment

(033) 4003-5104 – Online Payment

For general information & Technical Support 9836219994 9836289994

Help Desk Contact No 9836319994
Candidates may contact on the above numbers on any working day from 10 a.m. to 6 p.m.
Email id – pscwbhelp@gmail.com
How to Apply:
Candidates have to apply online for the WB Miscellaneous Exam 2018. Below are some important links regarding the exam –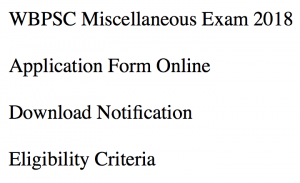 Official Website of Applying Online – Click here to apply / www.pscwbonline.gov.in / www.pscwbapplication.in
Download Advertisement Notification of WBPSC Miscellaneous Exam (PDF) 29/2017 – Click here.
In case of any doubts, feel free to comment below.
Thank you very much for visiting our website regularly.